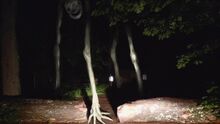 Item #: SNS-010
Object Class: Apad Ugrata
Socks Nickel Saving
Edit
SNS-010 is to be kept in a 20x20m soundproof chamber, and must be kept under surveillance under all times. No more than 2 personnel must enter at any time. It must be fed with 2kg of any meat in a daily basis via feeding tube. If the cycle is broken, T̘̗̬̣̰̺̦͟Ḩ̡̨̙̗͉͇͎ͅE̩̜̟̭̠͎͎͓̦ ̗̪̰̰͔̘̀̕͜Ĺ̬ͅỌ̲̖̱͈̞Ṟ̡̗̖̺͓̯D̛̝̤̦̙̖̼̻̳ ̯̤̝͕͘͘M̸͍̳̲̠̱̜͙ͅͅṴ͔̙͉͍̻̼̀͞Ṣ̯T͚̘ ͍̗̗̰̟̫͉̫͞B̡̘̟̱̮̳E̳͎͎͠ ̵̶̯͚̮͍̤͈F̭̗͚̩͈̺̖͕̕E̘̤͕͎̙̫ͅͅD̛͎̞͜ ͇͉͟͝W̯͓͢͡I̧͔̯̙͚ͅT̵̢͈̲̣H͏̦͕͉͈̣͞ ̴̜͉͙̱H̨̳̠͡U̼͚̺͈̙̣͙̗͝͞M̧͖͕̦̞̺͘A̴̡̼̭̭͚̪N͇̰͓͈͖̻͖̕ ̨͜҉͈̮͇̤F҉̤̹͕͚̱͔̱͘ͅL͍͔̤̻̫̜͢͡E̩̹̝͔̲̥S̷͓̞͠͝H͏̧̭͓
Description
Edit
SNS-010 is a quadrupedal humanoid with abnormally large legs and a distorted face. Its feet also have an abnormal anatomy. SNS-010 is agitated by sound, so personnel must be quiet around it. When it catches someone, it injects them with chloroform and brings them to its nest, where they are cocooned and held as food. (See document 010-A) IN NO CASE THE FEEDING CYCLE MUST BE BROKEN. SEE DOCUMENT 010-B
Document 010-A
Edit
Subject ██████ was fed to SNS-010, and researchers followed it to what is believed to be its nest. In it, subject ██████ was cocooned. It was discovered later that the subject was eaten by SNS-010.
Document 010-B
Edit
EXTREMELY IMPORTANT. READ AFTER DOING ANYTHING WITH SNS-010. After a problem with the feeding tube, SNS-010 was not fed for the day. It emitted a scream-like noise, and everyone close to it went insane. Some heard it but were not affected. The insane people attacked normal people, and various deaths were tallied. After killing people, the insane ones brought their bodies to SNS-010's contained, where it would eat the bodies. After a long time, they were terminated. SNS-010 re-classified as Ugrata and transfered to heavy containment.
Community content is available under
CC-BY-SA
unless otherwise noted.